Professional Vision of Ellicott City makes it a policy to ensure that all staff members are up-to-date on the latest technology and techniques to make your visit as comfortable and effective as possible. We know the value of your vision, and early detection of any signs or symptoms of eye conditions or diseases can make the difference of a lifetime.
As advances in technology are constantly changing year by year, finding an eye doctor with the all the right qualifications and carries the latest and greatest in eye exams becomes even more valuable.
Therefore, our practice utilizes the latest in cutting edge technology, where we are able to diagnose and manage, with greater precision, diseases like Glaucoma, Macular Degeneration and Cataracts.
Earlier and more precise diagnosis means earlier treatment and better outcomes. We are taking an aggressive approach to diseases that previously had few treatment options. Great advances have been made in the treatment of these diseases.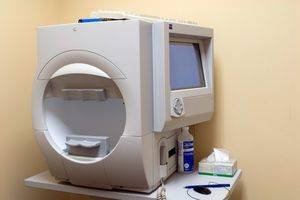 Zeiss Humphrey Visual Field:
Tests for Glaucoma and Cataracts utilizing technology to automatically locate and align the head and the eye to capture the health of the eye's surface with greater accuracy and safety. Not only is the system FDA approved, but does a lot more than a puff in the eye to test for glaucoma.

Cirrus Optical Coherence Topography (OCT)
An OCT scan isn't just a close up the inner eye – it's a high resolution photograph to give an eye doctor a detailed picture of your retina and its surroundings. Before, doctors had to estimate the health of your eye and relied more on their experience. Today, the experienced doctors know the importance of good technology and the benefits of an OCT scan.